Five years ago to this day I was anxiously awaiting Friday's evening. My wife was nine months pregnant, but that's not why I was nervous. I was nervous because it was the final game of our JV basketball season, and on this particular night we would finish the season 23-1 with a win. Our team was trying to tie the lower level school record for wins in a season. but that afternoon snow began to fall, and I became nervous our game would be cancelled. Around 3 p.m. my wife called and said she thought she was having small contractions. We debated on what to do, and decided that I would drive to the game and leave if needed.
I was sure it wasn't anything major, and we would be able to play our game. I'd come home and everything would be fine afterwards. but God had different plans. The game was cancelled, and I made it home just in time for us to realize we needed to go to the hospital. It was a long night, 13 hours of labor and three hours of actual pushing. My wife was a champ! Needless to say the disappointment of a cancelled game soon faded, as I was about to enter the best phase of my life: parenthood.
The greatest day of my life was the day my son was born. Being a father is awesome and it continues to amaze me. This week I want to share with you five things my wife and I have learned from our now 5-year-old son.
Patience. Have you ever said a prayer asking for help with patience? Well, that's why we have kids. When you as the adult lose patience, you feel like the biggest jerk in the world. You have those little innocent (yet mischievous) eyes looking back at you. I've learned to walk away and everything will be just fine. My son (and his younger brother) have taught me the real value and meaning of patience.
Love deeper than you thought possible. You never really understand true love until you have a child. Absolutely, you love your wife more than anything. Before kids, our dog was loved and treated like a human. He was our child. But the love you have for a child knows no limits. This love teaches you to sacrifice. You no longer care as much about possessions for yourself. You rarely buy things for yourself. I remember my parents rarely spending much on themselves, and now I feel and do the same. It's all about the kids. This love also makes you appreciate all your parents did for you. It's hard to put into words, but one doesn't truly understand it until they have a child of their own.
Appreciate the little things. God really does create little miracles. I am extremely fortunate to have two healthy and amazing sons. Time goes by fast and sometimes you just want to hit the pause button or put things in slow-motion. As a child grows up there are so many different phases they go through. Don't rush through or wish one were over. Things won't be like that for long. Love every phase. I love the running around the house, wrestling, belly laughs, having them run into your arms when you pick them up from daycare, teaching them how to ride bikes, how to play ball, and being there to comfort them when they're hurt. It's amazing to watch this little blob of a baby turn into a little person, and now a big kid about to enter kindergarten. Time needs to slow down, but it won't. The only option is to embrace and appreciate it all.
It's the best job. Being a parent is awesome! It's the best job in the world, and could also be the scariest and most stressful. It's rewarding to see your child learn and grow each day. As a parent your definition of fun takes on a meaning as well. You still do your own things but there's nothing quite like doing something together as a family and your children having fun doing it. The most rewarding thing as a parent is when your child chooses to do something with you over doing something else. Parenting is scary because they are so many unknowns.You never want your child to hurt and wish you could protect them at all times. If you read everything out there on parenting, you'd never leave the house. But you learn to trust your instincts and things work out. There's no greater job and responsibility than that of a parent.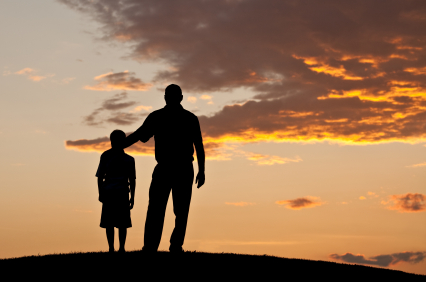 Our world doesn't have to be perfect. More importantly, it just needs to be happy. One of the great things about kids is their ability to move on. They don't sweat the small stuff and are great at just enjoying the day. Too often we as adults forget to just smile and enjoy the day. We all have our faults and many times take them too seriously. We forget to laugh at ourselves. Well, with having a 5-year old it's easy to laugh at yourself, and they do a really good job of laughing at you too. We don't have to be perfect, our children love us for how we treat them. And that's the way we all should look at every relationship we have: how do we make others feel and how do they make us feel?
Love your child for who they are, not who you want them to be. Too often we are cheering for the last name when we should be cheering for the first name.
Lastly, don't be afraid to be yourself. My son teaches me that every day. It's something I wish I could go back and tell my younger self. I'm not going to let him forget this lesson: be yourself and be proud. Do what makes you happy. That's what he does every day now, and I hope he never stops.
As always, thanks for reading, have a great week, and be an RGP today!
~Kyle
Coach Elmendorf is available to speak to your team, group, or organization. Message him for details.