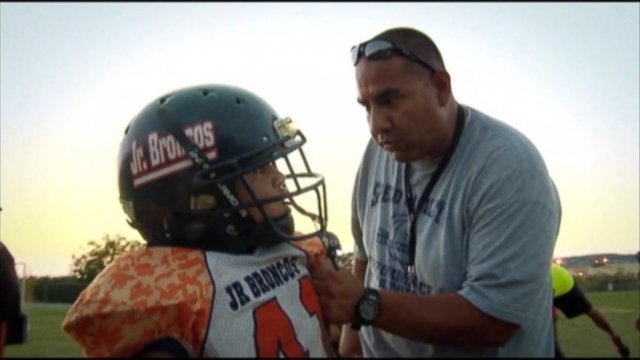 Have you watched the show Friday Night Tykes? I know what the show is about but have yet to watch it, nor do I plan to. This show seems to be a microcosm of all that is wrong with youth sports. We have a growing problem in youth sports, and it's all the adults fault. I like to refer to these adults as Little Lombardi's. This week we're going to discuss who these people are, why they're the problem, and what the solution is.
The great Vince Lombardi once said, "Winning isn't everything, it's the only thing." As a football coach, a former player, and a fan of the game I love Lombardi. However, this famous quote has been misapplied by coaches in almost every youth sport. Youth coaches (not all, there are exceptions) have developed a dangerous mindset and philosophy that is focused solely on winning. And it's ruining youth sports.
Far too many youth coaches stress winning over the experience. They are more focused on what the scoreboard says, rather than effort put forth, and the fun had by players. Because of this kids are burning out earlier, and they are not developing properly as athletes. Coaches focus too much on x's and o's, rather than teaching character. Coaches try to mimic the professionals they see on TV, and far too many coaches think it's okay to yell and scream at their kids. Today kids are playing way too many games without developing the necessary fundamental skills to become a great player. Teams should hold at least four practices for every game they play. Consistently playing more games than time spent practicing hurts the player and the game.
Too often the self-worth of parents and coaches is tied to how their child performed and if the team won the game. Adults are failing to separate youth from professional sports. Bragging rights on youth sports for adults has become a pastime. Instead of focusing on the final score, adults should focus on kids being a great teammate, being coachable, having a positive attitude, and trying hard. If the athlete is able to do those things, then they're a winner regardless of the score. The conversation in the car after the game should focus on those topics; not why or why not the team won. Parenting skills are more reflected in the character of the child, not in the child's athleticism. Too often parents place their value on how good of an athlete their child is.
If we don't recognize the critical problems in youth sports and change, more and more kids are going to suffer. Adults need to fully understand, appreciate, and accept the role they play in youth sports. Are we in it for the kids or us? Do we care more about the development and well-being of our youth athletes, or do we care more about how winning a game makes us feel?
Don't be a Little Lombardi.
Here are tips for coaches and parents to improve the youth sports culture:
-Focus on teaching the game
-Emphasize have a positive attitude
-Teach kids the value of working hard and never giving up
-Never talk about the scoreboard before or after a game
-Teach your kids to be great teammates
-Praise the athletes when they are coachable
-Reward great effort
-Cheer for the person, not the last name (more on this is a later post)
-Tell them you love them and that you're proud of them!
*As my friend Adam Bradley (@ABradley5) says, "That which gets recognized and rewarded gets repeated."
What would you change in youth sports? How would you change it? Please share your thoughts as this is forum to improve our sports and ourselves.
As always, thanks for reading, have a great week, and be an RGP today!
~Kyle
Coach Elmendorf is available to speak to your team, group, or organization. Message him for details.