Once upon a time there was a handsome young man with many talents. To the person on the outside looking in, he appeared to have it all. However, when looking in the mirror all he saw were his flaws and shortcomings. He knew he had good in his life, but he only focused on the bad and would replay painful memories over and over. All of this brought pain and suffering. This destructive pattern would continue for several years, and in all phases of his life. Finally, he heard an inner voice which said, "Be willing to change."
The voice would return in moments of silence and say, "Change is possible. It is possible." The young man would finally listen to the voice not knowing how, or when change would occur. But it did. Just by opening his mind he was to unlock the cold vacant place in his heart. He realized his inner worth and strength. He understood now he didn't need outward help to find his inner value and strength. He finally and fully realized he is awesome because he is God's creation. Now he could go on to be and do whatever he set his mind to.
We get treated the way we treat ourselves
How can we expect to be treated well by others if we don't treat ourselves well? The biggest and toughest opponent we will ever see is the person staring back in the mirror. If we continually beat ourselves up and engage in negative self-talk, we'll never achieve what we're capable of. Once we find our inner self-worth and accept ourselves for who we are, we will be free to live a life of joy.
Here are five keys to unlocking our inner strength and treating yourself as the awesome person you are:
Find peace and quiet.

Make time each day to sit alone in with your thoughts for five to ten minutes. During this time you can connect with your inner thoughts and find the peace you need. Eliminate the outside distractions and connect with your inner being. 

Live present.

Let go of the past mistakes and failures. You can't do anything about them know. Learn from them and move on. Those who are able to move on to the next day, game, or job are the ones who are most successful. Anything we focus on we can create. 

Do what makes you happy.

Life's too short to live by other people's' expectations. Don't live someone else's life. Find your passion and do it everyday. When you do, work will not feel like work. If it's not fun, don't do it. Inner happiness is the fuel for success.

Count your blessings.

Somewhere, someone always has it worse than you. Your problems may even seem like blessings to them. The key is to express daily gratitude for all the many blessings and wonderful people in your life. The more gratitude you express, the happier you'll be. Appreciation pulls things in and gives you more. Have an attitude of gratitude.

Today is your day.

Don't ever let yesterday take up too much of today. You were fortunate to wake up and see another day. Don't take it for granted. If you want something, go for it. Think, feel, and act with confidence. Have purpose and surround yourself with people who uplift and inspire. Focus on joy and live in possibility!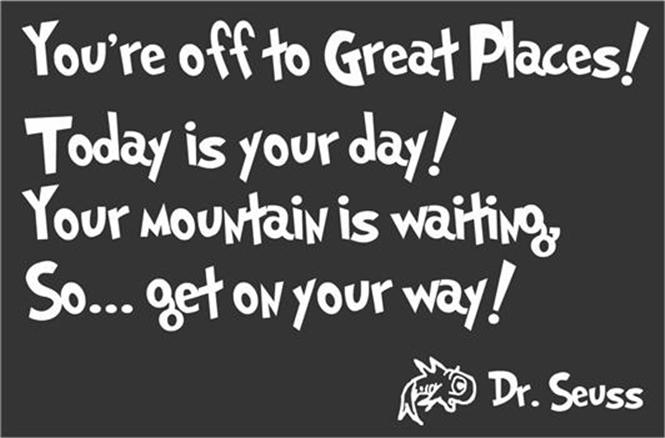 Do you treat yourself the way you want others to treat you? Only when we find the confidence to treat ourselves with the respect we deserve will we be able to reach our potential. People will only treat you as well as you treat yourself. So why not treat yourself right?!
Let's connect on social media. Follow on twitter and like our Facebook page–Coach Kyle Elmendorf
As always, thanks for reading, have a great week, and be an RGP today!
~Kyle
Coach Elmendorf is available to speak to your team, group, or organization. Message him for details.